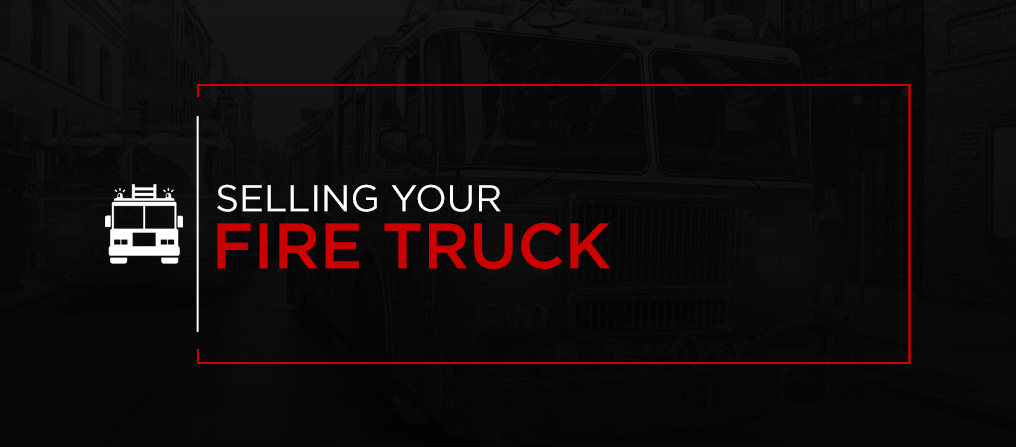 Many fire departments use the profits from their used truck sales to fund the purchase of newer equipment. Others find themselves with a surplus of idle equipment. Whatever the reason, when you want to sell a fire truck, you need to understand the process. When you work with Fenton Fire Equipment, the sales process is easy. We've put together this helpful guide on how to sell your used fire truck.
What to Know When You Sell Used Fire Trucks
Selling a used fire truck is a bit different from selling a used car. While the fire truck market will reach $6.5 billion by 2026, the used market is a much more specialized segment. You can't exactly drive your tanker to the dealership and trade it in for the next model. If your truck or ambulance has custom specifications, you also have to find a buyer who wants the same specs.
Fire trucks and equipment don't have an independently verified fair market value like you'd find with used cars. As a result, setting the right price can be confusing. If you go to a few resellers or brokers, you might find wildly different appraisals with no guarantee the price they suggest will motivate buyers.
If your department tries to sell fire trucks on their own, all the hassles of selling used equipment fall on you. You must advertise your truck where your ideal buyers will see it. Then, you might find yourself answering basic questions or haggling over prices with people who aren't ready to buy. Selling fire department vehicles on your own usually ends up taking longer. The truck spends more time at the station, gathering dust and racking up insurance costs.
The good news is selling used fire trucks is possible. With so many cash-strapped municipalities feeling sticker shock over new trucks, the used fire truck market is growing. Selling a fire truck is more straightforward when you have an honest, dependable expert in your corner. That's where Fenton Fire Equipment comes in. At Fenton Fire Equipment, you can list your truck for free, receive an appraisal and get connected with a qualified buyer. You won't pay a penny unless your deal goes through.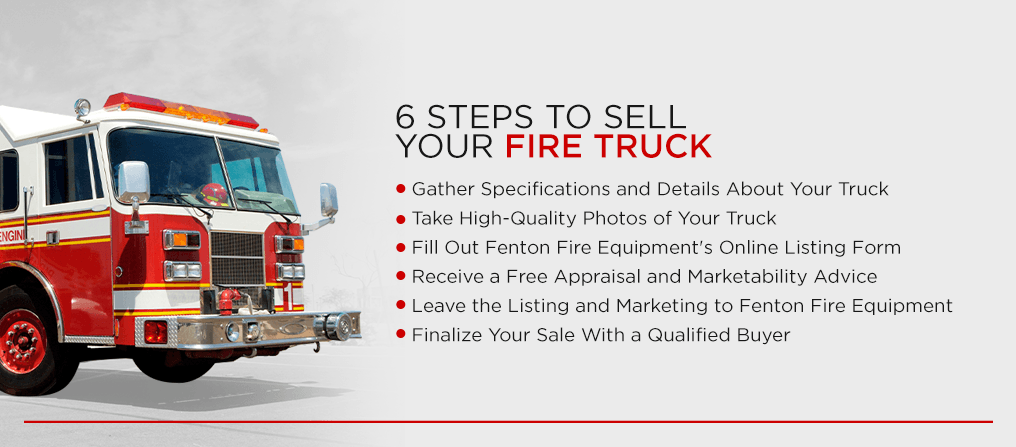 6 Steps to Sell Your Fire Truck
When you're ready to sell your fire trucks, follow these simple steps:
1. Gather Specifications and Details About Your Truck
When selling a used fire truck online, you must list all the specifications a buyer might need to know. First, what type of vehicle is it? Used fire truck equipment includes:
Engines and pumpers
Tankers
Ambulances
Ladder trucks
Mini pumpers
Fire chief vehicles
Airport crash trucks
Rescue trucks
Antique fire trucks
At Fenton Fire Equipment, we'll help you sell any of these vehicles. Next, gather all the related specifications. Be honest about any worn parts in need of replacement. Some of the information to include is:
The manufacturer and year
Mileage
Seating capacity
Truck dimensions
Pump size, if applicable
Tank size, if applicable
While you won't include a paper trail in the listing, it's important to organize one for your vehicle. Whether you bought it new or used, gather records of current ownership, loans, maintenance records and accident history.
2. Take High-Quality Photos of Your Truck
After selling used engines, tankers and antiques for over 15 years, we know quality photos are one of the top factors that drive interest in your vehicles. Buyers like to know exactly what they're getting for their money, and with big-ticket items like fire trucks, that need becomes more critical. Your potential buyers want to see the interior, exterior and features and verify they're in good shape and working order.
Follow our tips for snapping the best fire truck photos, and make sure to show off the details. Take pictures in good lighting and from many angles. Remember to show your truck in action, if possible. Show your ladder trucks with the aerial ladder or tower raised. Grab pictures of an ambulance's storage space and electrical equipment.
3. Fill Out Fenton Fire Equipment's Online Listing Form
Once you're ready to sell your old fire truck, it's easy to get started. Fill out Fenton Fire Equipment's basic listing form, which will tell us how to get in touch with you and more information about your vehicle. We'll reach out to you to discuss your listing before it goes live. Because our listing is non-exclusive and costs you nothing until and unless your truck sells, you can fill out our form with complete confidence. If you have more questions or want to chat with us first, feel free to call us at 1-866-310-2077.
4. Receive a Free Appraisal and Marketability Advice
Before we list your truck, we'll send a free appraisal and marketing suggestions. Even if you sell on your own or with another website, you can do so with an accurate price. We factor in depreciation, mileage, overall condition and current supply and demand to give you a price that makes sense, is attractive to buyers and will help you get the most value. We can also offer other suggestions to help you tailor your listing and get your vehicle sold.
5. Leave the Listing and Marketing to Fenton Fire Equipment
When you list with us, your truck gets instant exposure to our audience of thousands of potential customers. We get over 40,000 website visitors per month, which gives you access to a bigger marketplace. We'll also extend your reach by marketing your truck to customers through a combination of our website, social media campaigns and email blasts.
The best part is, we'll also talk to your potential buyers for you. Our knowledgeable team of truck experts and former firefighters will respond to questions, so you don't have to. We'll vet all buyers before forwarding your qualified leads.
6. Finalize Your Sale With a Qualified Buyer
As a seller, you'll get direct access to your best leads so you can go over the final details and negotiations. Buyers love discussing the vehicle with the equipment owner, which makes sales go more smoothly and quickly. You also get to negotiate yourself, so you know you're getting the best offer for your used trucks.
Once the sale is final and you've received your full payment, Fenton Fire Equipment will take a small commission. We'll only take this percentage if your deal goes through us.
Benefits of Selling Your Fire Truck With Fenton Fire Equipment
Why work with us? When listing your fire department equipment with Fenton Fire Equipment, you'll benefit from the following:
1. Exposure
How do you find the right buyers for your fire truck? The first step is getting it in front of the right people. Compared to cars or real estate, the used fire truck equipment market is pretty small. You're more likely to sell your truck quickly if you can get exposure to the most prospects. If you get a handful of serious buyers, you'll increase the resale value.
When you list with us, your truck has a vast audience of fire department buyers and collectors who are ready to buy.
2. Non-Exclusive Listings
Since the used truck market can be confusing, you may not want to limit your truck to one listing. We let you list your vehicle independently and with other listing services besides ours. We let you get the maximum exposure possible, whereas resellers and brokers may ask for an exclusive arrangement.
3. Free Appraisals
How much is your fire truck worth? With no industry-standard market value references to check, knowing an accurate price when you see one is challenging. Fenton Fire Equipment's expert team will give you an honest estimate based on our years of experience in real fire departments and the current market trends we see among your fellow listers. Take advantage of your free appraisal, even if you don't list with us.
4. Saved Time
Dealing with tire kickers is a waste of time. As a busy member of a volunteer fire department, you don't want to spend time answering basic questions from people who aren't likely to buy. You also don't want to lose a sale because you couldn't respond to an interested buyer fast enough. We give you back your time by being the first point of contact with your buyers. Many fire departments have found the process was a lot quicker and simpler than they expected.
5. Saved Money
Unlike other listing services, we don't take a commission unless your truck sells through our service. You won't pay anything if you sell independently or through another service. Our fee is reasonable and based on the final selling price, so you can rest assured you'll get a fair deal and save money in the process. Also, by trusting us to take care of your marketing and customer correspondence, you'll save on advertising expenses, too.