Heavy rescue trucks are the workhorses of the emergency response world. These prized trucks must be able to handle any scene, from minor car accidents to earthquakes and building collapses. Although the size and weight of these vehicles can vary depending on their configuration and purpose, many features make these powerhouses stand out from other fire apparatuses on the market today.
What Is a Heavy Rescue Truck?
A heavy rescue truck is a type of emergency vehicle designed to deal with particularly severe incidents, such as fires and other disasters, requiring a lot of personnel and equipment. These vehicles also must accommodate large groups of people as well as the necessary tools to handle severe conditions.
These trucks feature builds designed to carry heavy loads while:
Withstanding damage.
Avoiding overload.
Enduring harsh weather conditions.
Surviving other factors that could cause problems for different types of vehicles in similar situations.
What Is a Heavy Rescue Fire Truck For?
Fire departments, ambulance services and even police departments use heavy rescue trucks to provide critical care in difficult situations. You can find these trucks outfitted with a wide range of specialty equipment to navigate circumstances such as:
Confined spaces.
Structural collapses.
Trenches.
Extrications.
High angles.
Specialty emergency medical situations.
Technical search and rescue.
Key Features
When trying to save lives, rescuers need all the resources they can get. Although not all heavy rescue trucks come equipped with the same features, many carry specialized equipment, including:
Cribbing and shoring.
Ropes.
Water- rescue equipment.
Circular saws.
Cutting torches.
Cranes.
Hi-lift jacks.
Winches.
Generators and portable power.
Wooden cribbing.
Jaws of life.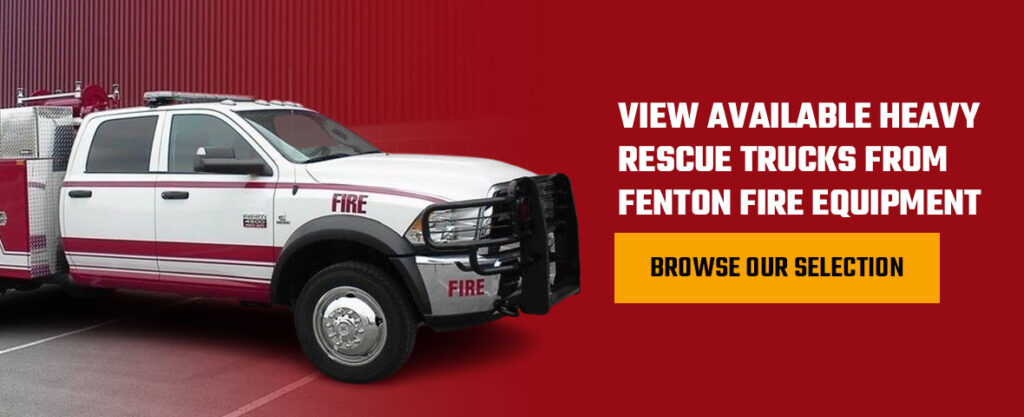 View Available Heavy Rescue Trucks from Fenton Fire Equipment
If your department needs a heavy rescue truck to help you protect lives more efficiently than before, look no further than Fenton Fire Equipment. With our wide selection of new and used rescue trucks, we have something for every budget and need.
We work hard to ensure all our customers receive the best value possible with their equipment purchases. Our goal is to help you focus on safety and serving your community. For more information about how we can help you choose the right equipment for your needs, contact our team of experts today!