Fire trucks are one of the most iconic symbols of emergency response. They're so closely associated with fire that many forget how relatively new these vehicles are. In this article, we'll look at the history of the fire truck and how it has evolved from the earliest days of horse-drawn carriages into today's massive vehicles.
The Early 18th Century
In the early 18th century, Englishman Richard Newsham received two patents for his fire engine design. The first, in 1721, depicted an invention that could direct a stream of water toward a fire. The second patent, issued in 1725, detailed an apparatus operated through a hand pump where two people worked a large lever while others directed the hose. Revolutionary in design, these initial constructions paved the way for modern firefighting equipment.
The 19th Century
Horse-drawn steam pumpers were still the most popular method for putting out fires in the early 19th century. As the years progressed, horses proved ineffective for larger emergencies. After the Civil War, small volunteer companies began to merge into larger ones with more resources and power to tackle the increasingly frequent and destructive fires sweeping through cities.
In 1885, the first electric fire engine system patent, designed by Schuyler Wheeler, received approval in the United States. Daniel D. Hayes invented the first aerial truck in 1868, allowing firefighters to fight fires from above. These great leaps forward from previous methods of pumping water allowed firefighters to get the help they needed to extinguish fires much faster and with added safety.
The 20th Century
Firefighting technology advanced at an incredible pace throughout the 20th century. In the early 1900s, motorized pumpers replaced steam-powered pumpers. In the 1960s, water pumps, ladders and cherry pickers emerged as commonplace tools for firefighters. This modern equipment allowed firefighters to target areas that were previously inaccessible. The introduction of elevating booms, sirens and other innovations helped shape modern firefighting equipment.
The 21st Century
The fire truck of the 21st century is a high-tech, high-powered machine that has been refined over centuries to meet the needs of the modern firefighting community. In addition to ergonomics, some departments now focus on geography and community configurations when designing their fleets. Today, many fire departments' focuses include:
Cab safety.
Optimized storage.
Vehicle-to-vehicle communication.
Specialized vehicles.
Improved standards.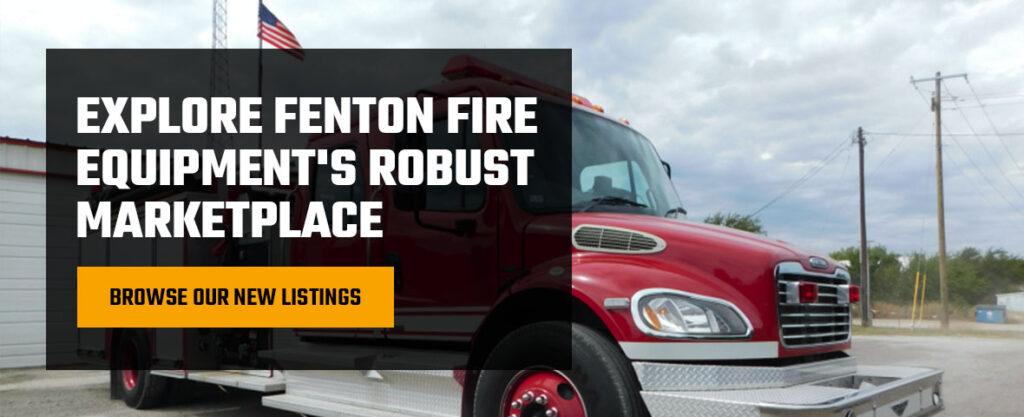 Explore Fenton Fire Equipment's Robust Marketplace
Fenton Fire Equipment is a one-stop shop for all your fire truck needs, whether you're looking for modern equipment or want to add to your classic collection. We offer free appraisals and are happy to help you find the perfect vehicle for you and your crew. Browse our new listings today!