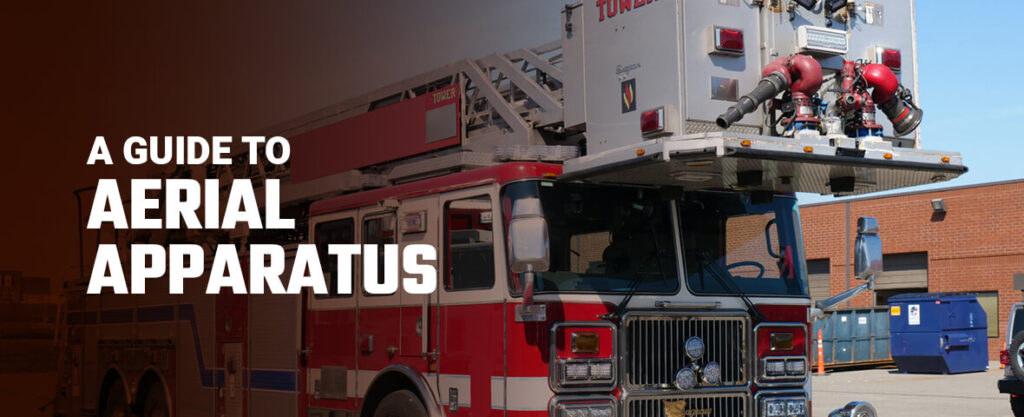 Whether you're a firefighter looking at trucks to present to your superiors or you need used but newer equipment for your fire station, you may be wondering whether an aerial apparatus is the right choice for you.
As with any purchase of a fire truck or firefighting equipment, this is a major investment into your station that you want to make carefully. To help you make your decision, this guide covers what an aerial apparatus is, the different options and the similarities and differences between the different types.
What Is an Aerial Apparatus?
Aerial apparatus refers to a fire department vehicle that includes an elevating platform or power-operated extension ladder used for ventilation, rescue and accessing upper levels. An aerial apparatus is also used to carry equipment like tools and ground ladders, allowing firefighters to breathe safely, rescue trapped people and enter a locked building.
The aerial operates via hydraulics, and aerial fire trucks include water delivery systems designed for elevated firefighting. Aerials can require some amount of expertise and training to properly position the ladder, but with this knowledge, an aerial fire truck can provide a vital rescue method that's particularly useful for high-rise buildings and delivering water from elevated levels. When you must reach high into a building, an aerial apparatus is the best option.
Different Types of Aerial Apparatuses
There are several types of aerial apparatuses, like:
1. Aerial Ladder Fire Truck
In the fire service, an aerial ladder is used for ventilation, extinguishments and rescue. This ladder includes a tip capacity of 250 lbs., 500 lbs. or 750 lbs. Some ladders may even offer a higher tip capacity. An aerial ladder can provide access capability among closely spaced buildings, overhead electric lines, balcony railings and trees. If you want a fire truck with a ladder, look no further than an aerial ladder truck.
2. Water Tower
A water tower is ideal for use in elevated fire suppression that does not require rescue capability. The water tower is an aerial apparatus that ranges from 50 feet to 130 feet in operating heights. This tower is also capable of delivering a water flow that exceeds 2,000 gallons per minute (gpm). Water towers capable of high water flow are particularly popular with stations in the industrial fire service.
3. Straight Stick
The straight stick fire truck includes several ladder sections that have an open style tip. Straight ladders can be faster to climb. These aerial apparatus can extend past the roof line, giving you access from both sides of the ladder.
4. Aerial Platform
Aerial platforms provide expanded capacity for extinguishment, ventilation and rescue. This platform is the ultimate firefighting and rescue tool, allowing you to perform those basic functions at a higher level. The minimum platform capacity of an aerial ladder is 750 lbs. With the aerial platform's higher weight carrying capacity, your fire station can gain better support and rescue more people.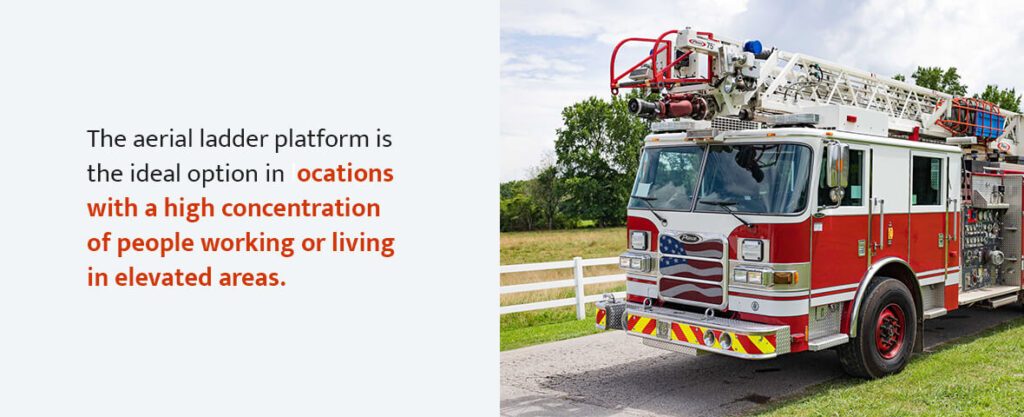 The aerial ladder platform is the ideal option in locations with a high concentration of people working or living in elevated areas. With this platform, you have a stable place to begin ventilation operations. Aerial platforms support firefighters and minimize the hazards associated with ground ladder climbing.
Additionally, an aerial ladder platform can bring water flow capacity to the highest possible level. Equip your platform with mounted deck guns for safe flow delivery that exceeds 1,500 gpm. The aerial ladder platform is ideal for locations with large buildings or areas in which major fire potential exists.
5. Tractor Drawn Aerial Fire Truck
One of the most maneuverable types of aerial apparatuses on the market today is the tractor drawn aerial fire truck. With a rear trailer axle that comes with rear steering capability and an articulating design, the tractor drawn aerial can make turns on narrow streets and around tight corners that you would otherwise be unable to make with a standard fire truck.
You can position the aerial while reversing or moving forward, which can be an especially useful function in alleyways, on narrow streets and in congested areas. As such, the tractor drawn aerial fire truck is a popular option for inner city locations. Other areas where a tractor drawn aerial fire truck is the best option include:
Mobile home parks
Historical districts
Older communities
Retirement villages
Apartment complexes
A tractor drawn aerial fire truck also offers high storage capacity. This type of truck can be designed to nearly double the storage space in its mid-mounted and rear sections. This aerial apparatus can include additional enclosed compartments for storing more firefighting equipment and accessories. The long trailer offers space for a wider array of portable ground ladders. For example, a longer ground ladder or a special application ground ladder can be carried only on a tractor drawn aerial fire truck.
Similarities and Differences Between Types of Aerial Apparatuses
Below, we compare certain types of aerial apparatuses.
Ladder Truck vs. Tower
In some cases, a tower may be a better option than an aerial ladder truck, such as when you need additional water flow to reach greater heights. This type of truck tends to require more space and a jack spread of 18 feet. An aerial fire truck, on the other hand, has a jack spread of 14 feet to 18 feet.
An aerial ladder truck has an advantage when you have to reach high into a building but have little space on the ground to set up the truck and ladder. Towers are larger apparatuses that can put a lot of strain on bridges and roadways and cost more than a standard ladder truck.
Platform vs. Straight Stick
When it comes to choosing an aerial apparatus, many firefighters are deciding between a straight stick and a platform. Consider factors like maneuverability, intended use, safety, water flow and station space. If you want to gain clearance for improved accessibility and travel height, you may want to choose a straight stick. If you want greater reach, you may want to go with the platform.
Aerial Ladder Fire Truck vs. Platform Fire Truck
Typically, an aerial ladder is more compact in size than an aerial ladder platform unit. If space is limited, the aerial ladder tends to be the best option. The tip of this ladder is smaller than a platform, which makes it capable of enabling better, consistent access among overhead electric lines, closely spaced buildings, balcony railings and trees.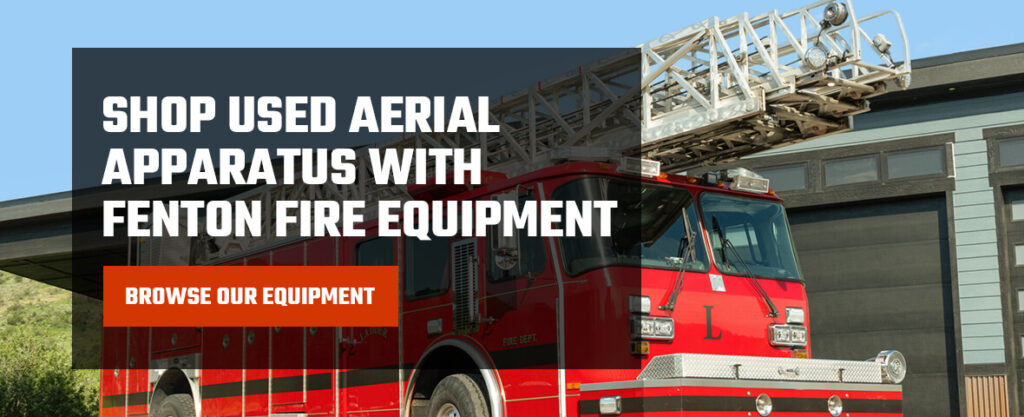 Shop Used Aerial Apparatus With Fenton Fire Equipment
At Fenton Fire Equipment, we provide used fire trucks for sale. List your own fire equipment for sale or browse pre-owned listings to find the equipment you need. Our services for selling equipment are non-exclusive, and there is no charge if we do not find a buyer. Along with providing a large audience to sellers of fire trucks, we offer a huge selection of trucks for buyers and assistance with shipping and financing.
As a full-service brokerage company, we provide avenues for buying, selling, financing and shipping used fire equipment. Whether you're looking for tractor drawn aerial fire trucks or aerial ladder fire trucks, we can help you find the apparatus you need. Contact us at Fenton Fire Equipment for more information about our used fire trucks.